Law Students
OUR SUMMER ASSOCIATE PROGRAM
Our Summer Associate Program gives students insight into the day-to-day experience of a first year Associate at Porter Hedges. To ensure a fulfilling experience, we intentionally assign substantive, challenging and billable work aimed to develop and broaden skills. Our attorneys evaluate each assignment and provide valuable feedback so that our Summer Associates are an asset to the firm upon graduation.
Click here for additional information about our summer program
Program Length
We anticipate our 2022 Program will begin May 16, 2022.
Class Size
8-10 law students (1L and 2L)
Compensation
Our compensation package is competitive with that of other large firms in the Houston downtown market.
Assignments
There is no formal practice group rotation system. We'd rather our Summer Associates have the ability to receive assignments tailored to their specific practice group interests.
Mentoring
Each Summer Associate is assigned a Partner and Associate mentor to provide professional guidance and facilitate introductions within the firm.
Social Activities
We plan weekly social events and lunches inside and outside of the office in an effort to integrate our Summer Associates with our firm's culture and foster closer relationships.
For additional information on our summer program, please contact Deirdra Clement.
1L DIVERSITY FELLOWSHIP PROGRAM
The Porter Hedges 1L Diversity Fellowship is awarded annually to a first-year law student with a strong commitment to promoting diversity and inclusion. The fellowship program provides the selected candidate the opportunity to receive up to $25,000 in stipends during their participation in the program. If you are interested in applying for our 1L Diversity Fellowship, please submit your materials via our website by Monday, January 3, 2022. Additional details can be found here.
OPEN POSITIONS
We actively recruit at the University of Texas School of Law, University of Houston Law Center, South Texas College of Law and Tulane Law School. If you are interested in a Summer Associate position with Porter Hedges, we encourage you to attend the upcoming events we have planned at your law school and submit your resume through your respective law schools' resume drop via Symplicity. If you have a question about the upcoming events at your law school, please contact our Recruiting and Development Manager, Deirdra Clement.
If we do not actively recruit at your law school, please feel free to apply to our 1L Summer Associate position via our website. The deadline to apply for any 1L position position for our 2022 program is Monday, January 3, 2022.
Please note: We are no longer accepting 2L applications for our 2022 Summer Associate program.
HEAR FROM OUR SUMMER ASSOCIATES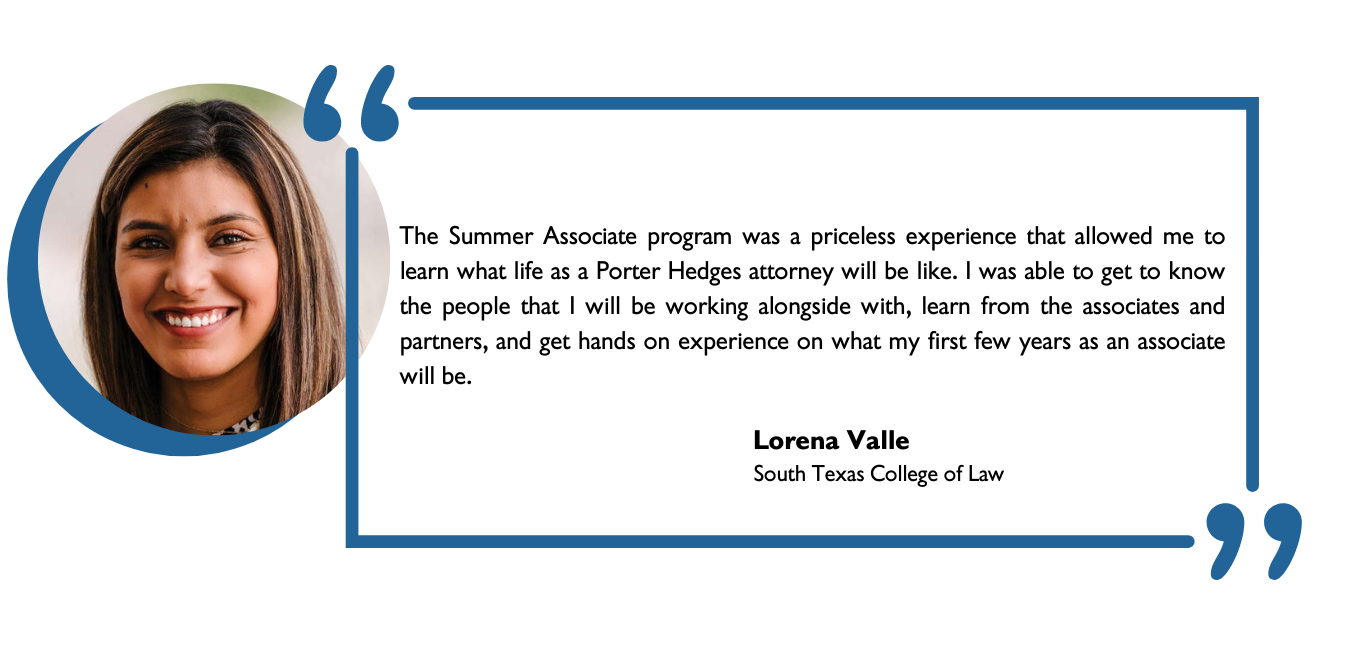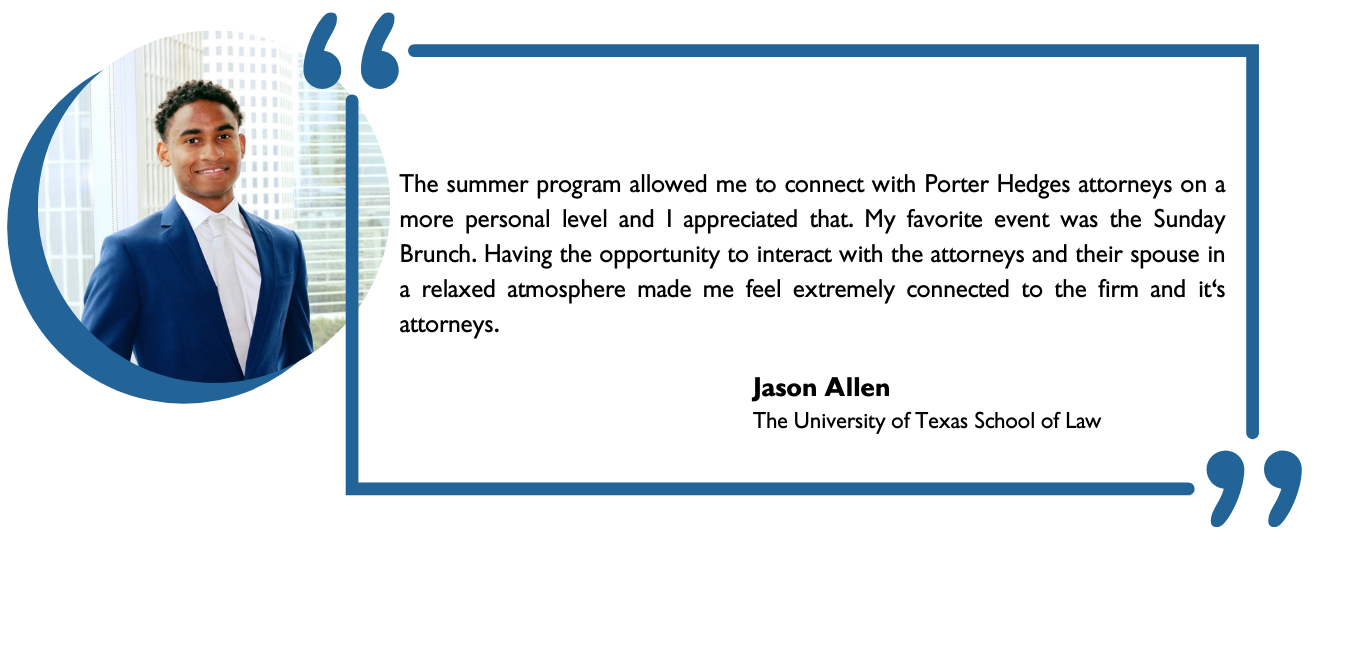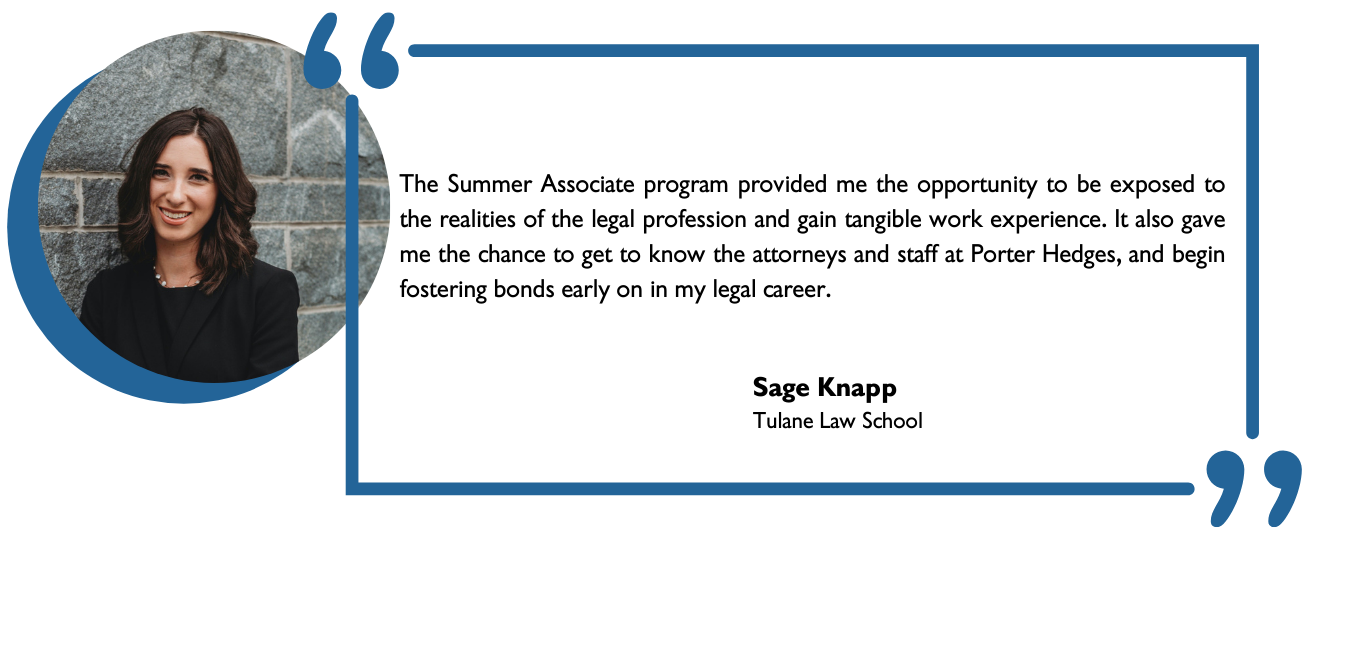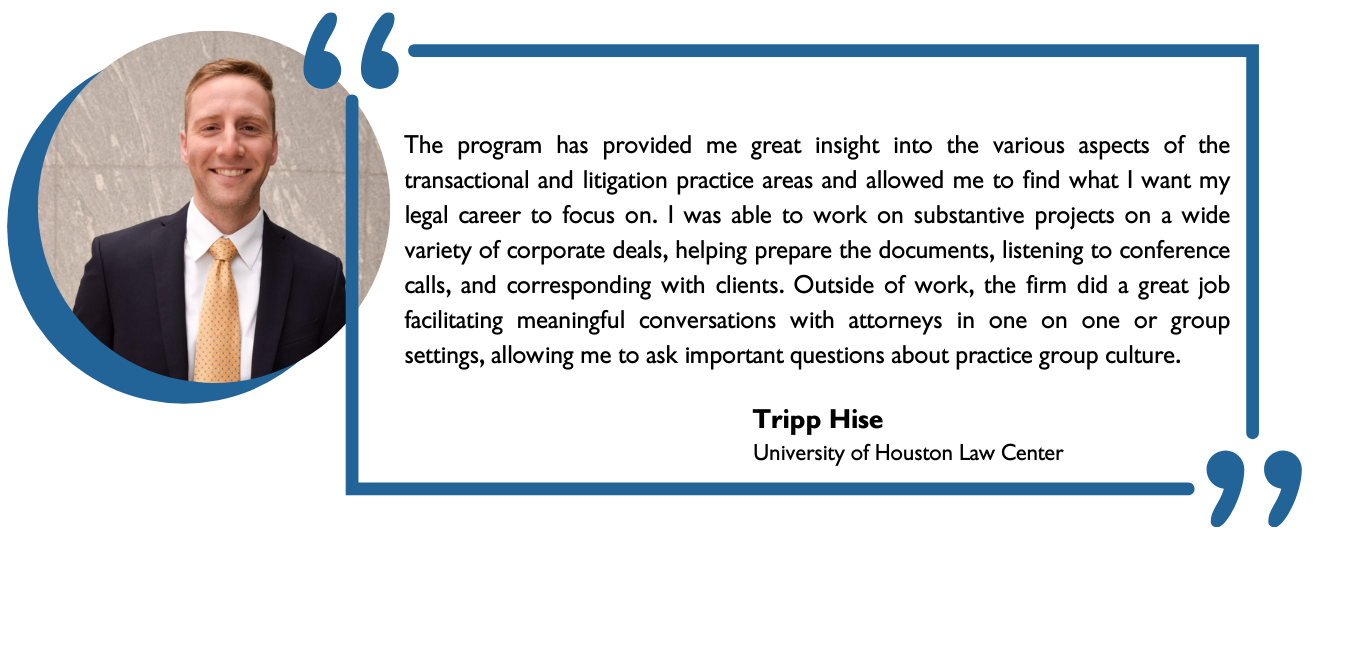 Porter Hedges guarantees equal employment opportunity to all qualified applicants. All qualified applicants will receive consideration for employment, without regard to sex, age, race, color, national origin, religion, disability, sexual orientation, gender identity, gender expression, military or veteran status, or any other characteristic protected by law.